About Us
Find out more about Sunstate Pest
Who is Sunstate Pest Management?
Sunstate Pest Management is a full service, family owned and operated company that specializes in integrated pest management, turf and ornamental management, and markets our own PROGARD™ professional termite and pest monitoring system.
Where is Sunstate Pest Management?
Our office is located at 636 Eyster Blvd Rockledge, Florida 32955
The mailing address is PO Box 560677 Rockledge Florida, 32956-0677
WE serve all of Brevard county including: Melbourne, Palm Bay, and the Beaches.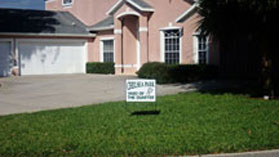 Clients:
Just a few of our clients include: St. Andrews Village, Homes of Ponce De Leon, Villages of Ponce De Leon, Villas of Suntree, Corley Construction, Brisa Del Mar, Golf View Condo, Harbor Green Condo, C.D.M.A., Parkway Villas, Magnolia Point, Tanner Construction, Ed Turner Concrete, Sea Island Construction, Habitat for Humanity, Laurelwood at Bayside Lakes, Indian River Isles, Oleander Bakery.