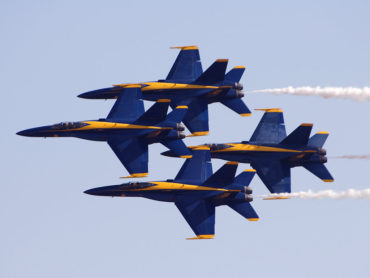 2021 Melbourne FL Air Show
We love our aviation in Brevard County. In fact, Florida is third on the list of most private pilots behind California and Texas. The year round warm weather makes it an ideal place to take to the skies.
Before Melbourne Airport became the modern airport it is today, it was a training ground for Navy Pilots. Many of the pilots who served and fought in World War 2 were trained in Brevard County.
We had a very active Air Force Base until recent decades when it became more of a stop-over for aircraft in transit. Patrick Air Force Base is now Patrick Space Force Base and the emphasis on flying has taken a back-seat to space travel and security.
Still, we love a good air show. The 2021 Great Florida Airshow is right around the corner. On Saturday May 15th and Sunday May 16th you will be able to catch some of your favorite aircraft overhead. The Navy's Blue Angels are the star of this show. They will be flying in the Boeing F-18 Super Hornet. This model just recently replaced the regular ("legacy") Hornet which the Navy flew up until this point. So, this is the first year the Blue Angels will feature the larger Super Hornet.
There will also be a single F-16 Viper showing as well. The F-16 is one of the most agile and versatile planes on the planet and despite its age (40+ years) it still impresses novice and experienced air spectators alike. Below you can find a cool video of an F-16 joy-riding in the desert. The single engine beauty is the perfect mix between power and agility. It's top speed is over twice the speed of sound (mach 2.0+)
Tickets for the Air Show are $50 for general admission and $75 to $95 for premium seating. You can purchase tickets and parking passes here.