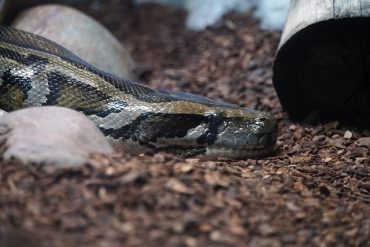 Burmese Pythons Have Made Their Way Up To Brevard County
Well I suppose it was only a matter of time. The Burmese Python situation we have in South Florida has made its way up the coast. Steve Nauman, an alarm technician at Kennedy Space Center, was going about his routine when he stumbled upon the slithering reptile. When asked what he usually sees on the property he responded: ""Water moccasins, rattlesnakes are common," Nauman laughed. "But nothing that large."
As we have reported previously, the Burmese Python is an invasive species from South America. It is a problem that has become so prevalent in the Everglades that the State has competitions for who can catch the most and who can catch the biggest python. And yes the competition is complete with cash prizes.
"When I saw the sheer size of it, I figured it was a python," Nauman said. "Security thought we were punking them.". It was no prank. The invasive species has seemingly made it way up the coast. Only time will tell if this is the beginning of a full on python invasion.
Theories about how the snake came to call Florida its new home are varied but the two main theories are
a) They came up with Hurricane Andrew back 30 years ago.
b) They escaped from a breeding facility.
Of course no one truly knows how invasive species take hold for certain. It could actually be a combination of many factors. For instance, there is a Indian Ring Necked Parakeet problem which exists in London. The bird is an expensive pet in most of the world, fetching between $700-$3000 at pet stores. But in London they encourage residents shoot them with pellet guns. Not joking. The birds ravage fruit trees within and surrounding the city. There are many theories as to how they took hold as well. Everything from being released after the filing of "African Queen" with Humphrey Bogart to Jimmy Hendrix letting a bunch loose as a symbol of freedom in the 60's.
According to the video below, the Python may be able to take over territory all the way north up to southern Virginia and all the way out west to California. That is a very scary prospect. Countless endemic species will be decimated if that happens.