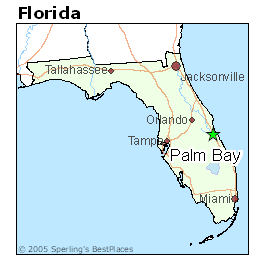 Pest Control in Palm Bay, Florida
Central Florida residents understand that the sunshine state is a great place to live. Unfortunately, insects, rodents and countless other pests share our affection for the heat and humidity beloved by residents of Palm Bay, Florida and its surrounding communities. At Sunstate Pest Management we take pride in our ability to care for and protect our neighbors from infestation and that's why we offer a range of affordable pest control solutions to assist with the prevention of pests and (if they've already entered your home) with their removal.
For many homeowners in Palm Bay the lawn is the barrier between their home and invasive insects like ants, roaches and termites. A well groomed lawn treated regularly with the right blend of insecticide and environmentally friendly herbicides can go a long way toward ensuring that insects never step foot inside your home, let alone invite their friends to move in. Most insects thrive in dense foliage and they seek out shady, protected areas during central Florida's sunny afternoons. A neglected, overgrown yard invites these unwanted visitors to make the trek to your foundation where they're sure to find hairline cracks and crevices through which they'll enter your home. The old saying "an ounce of prevention is worth a pound of cure" is true for residents of Palm Bay, Florida and its surrounding communities and taking advantage of Sunstate's affordable exterior treatment program is a valuable step toward pest control and prevention in central Florida.
The advantage of investing in our exterior treatment program is that we guarantee its effectiveness. If you spot an unwanted insect inside your home while it is protected by our program we'll promptly come to your home and treat the trouble areas at no additional cost. Few pest control companies offer a guarantee like this or demonstrate this level of confidence in their products, but Sunstate Pest Management has earned its reputation for excellence in central Florida by standing behind our products and customer service. We're with you every step of the way.
Our commitment to quality pest control service for Palm Bay residents extends beyond our guarantee of effective prevention. As your neighbors in central Florida, Sunstate is committed to ensuring the safety and health of you and your family. While DIY insecticide products are often less expensive, they're also less safe. Our pest control professionals are abreast of industry standards, federal and local regulations and make a point to apply the right products in the proper way, cleaning up the treated areas of your home so that your children and your pets are not at risk. As neighbors in central Florida it's our duty to look out for one another and if you're faced with an infestation in Palm Bay, Florida we want to be there for you to help quickly get things back to normal for you and for your family.